News from Istanbul collaborators: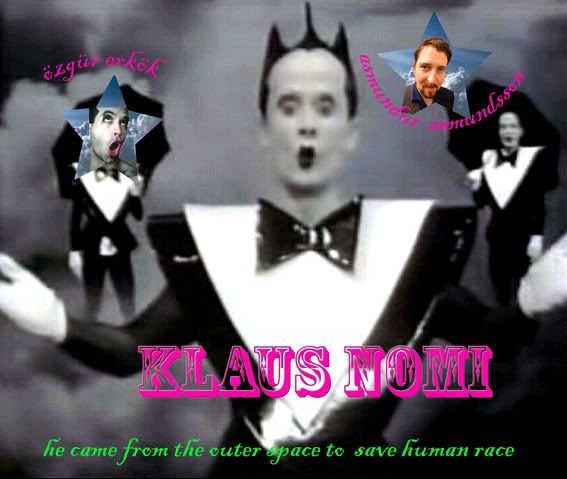 Klaus Nomi'yi Anma Gecesi / Celebrating Klaus Nomi
20 Temmuz Cuma / 20th July Friday
22:30 @ STUDIO LIVE, Istanbul
He came from the other space to save the human race
Klaus Nomi mixed Opera, electro pop and rock. He brough german expressionism to the Fiorucci club culture of New York in the 1980s, this Friday we will celebrate him at studio live with special Klaus Nomi performance by Hazavuzu's Ozgur Erkok and video screenings from both Nomi Song documentary and Nomi music videos.
Asmundur Asmundsson
will perform with his puppet.
Klaus Nomi:
Klaus Nomi (born Klaus Sperber) was a counter-tenor and baritone singer and performer, noted for his remarkable vocal performances and unusual stage persona.Klaus Nomi He died of AIDS-related illness, one of the first celebrities to die of this disease.
Nomi moved from Germany to New York City in the mid-1970s, where David Bowie saw his nightclub act and hired him as a backup singer. Nomi and Joey Arias famously performed with Bowie on an episode of Saturday Night Live in 1979. Nomi also collaborated with Manny Parrish.
Nomi is remembered for his bizarrely theatrical live performances, sporting heavy make-up, unusual costumes, and highly-stylized hairdos. His songs were just as unusual, ranging from synthesizer-laden interpretations of classic opera to covers of songs like Chubby Checker's The Twist.